THANK YOU.......
to all the 'Bad Girls' who took Challenge #9 and created a masterpiece from a block  of wood. By random draw the winner of Challenge # 9 ~ Wooden Blank is the wonderfully talented: Congrats Kats5454 you have won  a $20.00 gift certificate to spend in the Bad Girls Kits store.
_____________________________
MONEY~ this means something different to everyone. The ever resourceful artist has found a way to use their talent to make a different type of currency.
Check out the wonderful world of ART MONEY  and be inspired.
Challenge 10 ~ Art Money:
(good weight paper or substrate such as heavy watercolor paper). Traditional size requirements~ see Art Money for detailed info)
THEME~ Architecture

(historical, invented, whole or part, series or not etc....)
Required material~ Tape

(masking, duct, electrical, packing, etc....) 
summary: follow the 7 Rules- size is 4-3/4" x 7" must be' your original art work'
   Here are some awesome inspirational examples
 worked up by the Project 52 Team and our
Guest Designer "Monica Downing"
Bio.  My name is Monica Downing...aka Madzie. I am 45 years young, married with 2 kids and our puppy Leo. I relocated my family from California to Virginia 5 years ago. I work full time in commercial lending and in my spare time I do everything I can to create and learn more about art and step further outside of my box.
I have been scrapbooking for about 3 years but just recently got introduced to mixed media. Project 52 has had a profound impact on my art.  Since becoming a "Bad Girl" I have learned so much and tried so many things I would otherwise  had no idea how to approach. I am so flattered to have been chosen by this elite group of artists to be a guest designer this month.
I have always dreamed of going to Paris and seeing the Eiffel Tower, so I chose it as my piece of architecture for this project. I wanted to create a romantic looking piece of Art Money because I think Paris must be the most romantic place to go and also because it is so close to Valentines Day.
Supplies:
~Heavy Card Stock
~Modge Podge
~Masking Tape
~Muslin
~Gesso
~Border Punches
~Floral Fabric
~Zip Dry Glue
Tips For Creating This At Home:
 I cut a piece of heavy card stock to the required size. Sponge brushed modge podge onto the card stock and placed a piece of muslin on top of that. When it dried I trimmed the muslin with pinking sheers.
I taped the sticky sides of the masking tape together to make a piece of paper. I then watered down my Gesso a little and applied it to the masking tape paper.
I printed out the picture of the Eiffel Tower onto the masking tape paper.
I made one layer of the lace border from the unused part of the of the Eiffel Tower print and a border punch.
The other lace border was made using another piece of masking tape paper painted with Gesso, and a different border punch.
I layered torn strips from an antique book page for the right border
I cut 3 different sized heart shapes from fabric and muslin, and also a rose cluster, that were used in the corners. The Paris button was cut from a piece of patterned paper.
I printed the serial number, country and year, my name and the www.artmoney.org address onto muslin.
Once I had created all of the elements needed, I started layering until I achieved the look I wanted.
__________________________
TANIA DAVEY "this one was heaps of fun! .. i think i may do a couple more"
Supplies:
~Cardstock
~Paint
~Color Wash's
~Stamps
~Stazon Ink
~Masking Tape
~German Scrap
~Texture Paste
~Glitter Gel Pen
Tips to Create This At Home:
To create this .. I paint card with a white paint,
while it was still wet I squirted color wash colors close to the wet paint,
as I dried it with the heat gun, if it looked to dark I squirted it with water, making the background.
Then I added the texture paste through some star sequin waste.
Then I stamped the images with stazon ink
I then colored some parts of the stamps with white paint,
and then added some glitter gelly pen.
To finish it off I used masking tape colored with distress inks,
and then some German scrap, and stamped the title.
_____________________
KATIE TURNER: "the city & i"
Supply list:
~bristol board
~anthropologie catalog
~ photographs
~ kraft paper
~ masking tape
~ heart punch
~ ink pen

Tips for recreating this at home;
Find an interesting background from a magazine/catalog. try to look for ones that are out of focus; I collaged over the original, focused subject matter to create my own artwork. The quote is also from an anthropologie catalog -- I just wrote it out by hand.
Use photographs that you have had laying around for a while / not sure what to do with -- you may be surprised at how much they inspire you!
Repeating elements (in my case, the kraft paper hearts, masking tape, lions, and neutral color scheme) add a cohesiveness to your collage, especially helpful if it is composed of various bits and pieces.
have fun!
________________________________
JAZ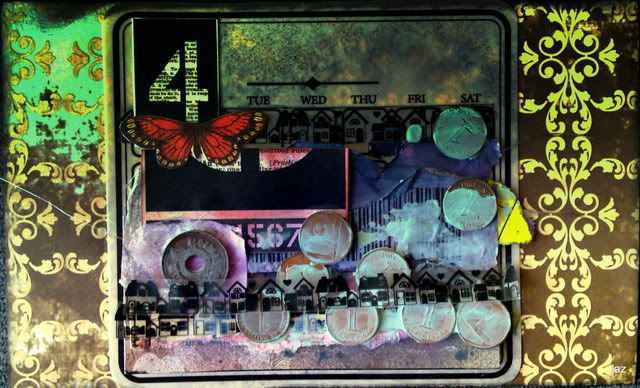 "I had so much fun creating this. I wanted to create a pretty piece of money note, hoping that all money notes are pretty, so that we all don't have to spend them away too fast .teehee."

Materials;
~Webster's Pages Pattern Paper
~Theresa Collins Pattern Paper
~Duct Tape, Packing Tape and Masking Tape
~Coins
~Tattered Angel Glimmer Mist
~Making Memories Paints
~Tape - unknown

Instructions;
Use Webster's Pages Pattern paper as the base. measuring 11 x 18 cm.
Place the plastic card (unknown source) on the centre of the paper.
Place the duct tape, masking and packing tape onto the card. (I have peeled off a piece of the packing tape from a parcel I have received, tore off part of the barcode to be used too)
Place a strip of Theresa Collins Pattern paper .measuring 2.5cm x 11cm.
Layer with some more small papers from theresa Collins.
Cut out the number "4" for the left top hand.
Place coins around the right bottom corner and a significant piece on the left.
Paint with MM Paint.
Place strips of the transparent tape with "house" prints.
Add a butterfly below the number '4'.
Mist with Arctic Blue color.

Digital:
Use picasa to do color saturation.
Use color shade "sky blue" to distress the note.

________________________________
WENDELA
Supplies;
~tape
~vintage images of Paris ( eiffel touer, and arch the triomph)
~fabric
~alcohol ink (pesto)
~glimmermist (walnut gold)
~gesso
~ribbon
~sewing machine
~golden medium gel matte
~crackle paint ( bronze)

Tips to make this at home;
Yransfer the image on the fabric, you can do this with the golden medium gel
add some tape, first I crunched it with my hands, add some alcohol ink on the tape...make stichings with your sewing machine
add some crackle paint..when all is dried, you can make more stitchings...and last but not least, add some gesso, not to much....you can add the gesso with a dry pencil....



"Questions?? Feel free to ask them, and I will answer you on the boards!"

________________________________

ANNA D P

Altered photos - I took them last spring on the trip to Wroclaw:)
_________________________________
the back of your Money should look similar to this
I used packing tape to transfer images of buildings I photographed in China a couple of years ago. I like this transfer method for this project because it keeps the images
thin and flat. I then modge podged the 'hornet nest' material I picked up after a storm last year. I figure this way I have 2 of the oldest types of architecture covered.
My attempt at Chinese writing symbol represents 'endurance'.
Materials;
~Packing Tape
~Gesso-colored with MM paints
~Stamp
~Inks
~Copic Markers
~150 lb. metallic paper
TIP: Hornets nest is very fragile, work carefully and dry fit, once its down you will   not be able to move it.
________________________________
DEADLINE FOR COMPLETING THIS CHALLENGE IS MARCH 6, 2010
'Project 52 Challenge # 10-ART MONEY'
Don't forget to sign and number your Money. Have Fun!!!
 Do consider registering one with 'Art Money'